Arthur M. Ogden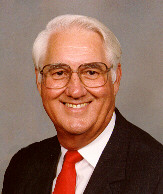 1932-2000
Arthur M. Ogden was born November 24, 1932 in Winchester, Kentucky just six weeks prior to the famed Neal-Wallace debate. His father, Max Ogden, was instrumental in arranging this debate. Foy Wallace, Jr. lodged with the Ogden's during the week of the discussion. According to his mother, Arthur, because of a good old fashion case of colic, gave Wallace more trouble than Neal during the week.

Following in his father's footsteps, Arthur began preaching in the spring of 1951 near Scottsville, Kentucky. During his forty-nine years of preaching he served churches of Christ as local evangelist in Illinois, Florida, Ohio and Kentucky. Most of the last thirty-seven years of his life were spent serving the Bourne Avenue and Southside churches in Somerset, Kentucky. He held numerous Gospel Meetings in many states, mostly east of the Mississippi River, and preached thousands of times on the radio. He lectured many times on the book of Revelation.

On April 3, 1998, he was diagnosed with pancreatic cancer. He remained in the hospital for three weeks before being sent home to begin chemotherapy and radiation treatments. Doctors felt he had a very few weeks to live. In spite of their expectations, he made it through the treatments and began to slowly improve. By Thanksgiving, 1998, he had improved enough to resume preaching. Starting the first of January, 1999, opportunities were presented for him to preach two Sundays each per month with the Bethel and Hazedell congregations, country churches near his home in Somerset, KY. Throughout 1999 he continued to gain strength and to work with these groups each month.

Beginning in January, 2000, he worked full-time with just the Hazeldell congregation, helping them not only on Sundays but on Wednesday evenings as well. He presented his last sermon there on Sunday evening, September 10, 2000.

For a full month before his death he was feeling better than he had in more than two and a half years. He only began feeling bad again four days before his death and he only experienced the pain associated with pancreatic cancer for the last couple of hours of his life, rather than for several months as is generally the case. He passed away at 1:05 pm (EST) on Tuesday, September 19, 2000. His funeral was conducted on Friday, September 22, 2000.
---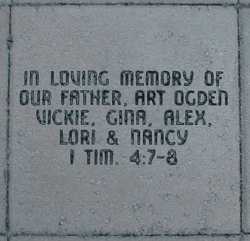 To the right is a memorial stone placed in front of the Administration building on the campus of Florida College in Temple Terrace, FL. It was ordered in the spring of 1998 by my sister and her husband when it seemed certain time was short. It will forever remind us all of his life, work and devotion to the Lord, but it will also serve to remind us (since he lived long enough to see it for himself) that only the Lord knows when our time here is finished. By the way, the reference was supposed to be 2 Timothy instead of 1 Timothy.
---
This page is © Copyright 1996-2003 Ogden Publications, All Rights Reserved.
This page was last updated on April 8, 2003.