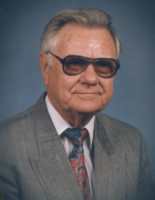 Aude McKee was born and raised in Midland, Indiana, the youngest son of William and Ollie McKee. He left home after high school to work in Anderson, Indiana. It was there that he met Verna Nunley, and they married in 1941. He served in World War II as a medical corpsman with the Navy in Trinidad. His career as a gospel preacher did not begin for several years. In 1948 he moved his wife and young son to Nashville so he could attend David Lipscomb College and while there began preaching on a regular basis. After his graduation, he began his first full time work in Burns, Tenn. In 195 l, his family, now with two sons, moved to Augusta, GA, where two more sons were born. Aude moved from there to Crawfordsville, Indiana, followed by a move to Plainfield, IN. In 1961, the family went to Lagos, Nigeria, where Aude preached nightly on the street and both he & Verna worked with the Nigerian people. After two years they returned to Plainfield. Their next move was to Murray, KY, followed by Valley Station in Louisville, West Knoxville in Knoxville, TN, Riverside Drive in Nashville, and Lakeview in Hendersonville, TN, before Aude "retired" to meeting work. Since then he preached in Franklin, KY on a semi-regular basis, until Verna was hospitalized for a lengthy period in the fall of 1998. Aude cared for her at home until her death on June 12, 1999.

Aude & Verna were true partners. They both had as their primary goal to spread the gospel of Christ and their commitment to that goal is evident in their writings and teaching materials as well as the testimony of the many people who express their love and respect for them. Verna supported Aude, not only through her encouragement and positive attitude, but by doing whatever was needed--whether it was drawing a chart, typing a lesson, or simply offering suggestions. Neither Aude nor Verna ever stopped studying. Their personal goal of greater knowledge and understanding of the Word of God continued even as they reached out to others.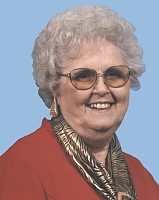 Teaching came naturally to Verna. Born in Kennett, Missouri, she was the oldest of four children, so she began to use those teaching skills early. Her family moved to Anderson, Indiana, fairly early in her life and she graduated from high school there. She began working in the clerical field before her marriage to Aude and continued after he left for WWII. Besides much experience in teaching Bible classes from an early age, her most intense teaching experience was when she taught her sons in their home during the two years they lived in Nigeria. That consisted of two school years for three of the sons and one year of high school for the oldest son--with no duplication! There was much teaching to be done with Nigerian women and children as well. She was always an eager teacher of the Bible to anyone who would listen.