Some years ago someone sent me the following 2 pictures and page 67 of some book (I have no idea what book) which contained information on my grandfather, Max Ogden. I reprint them here for your information.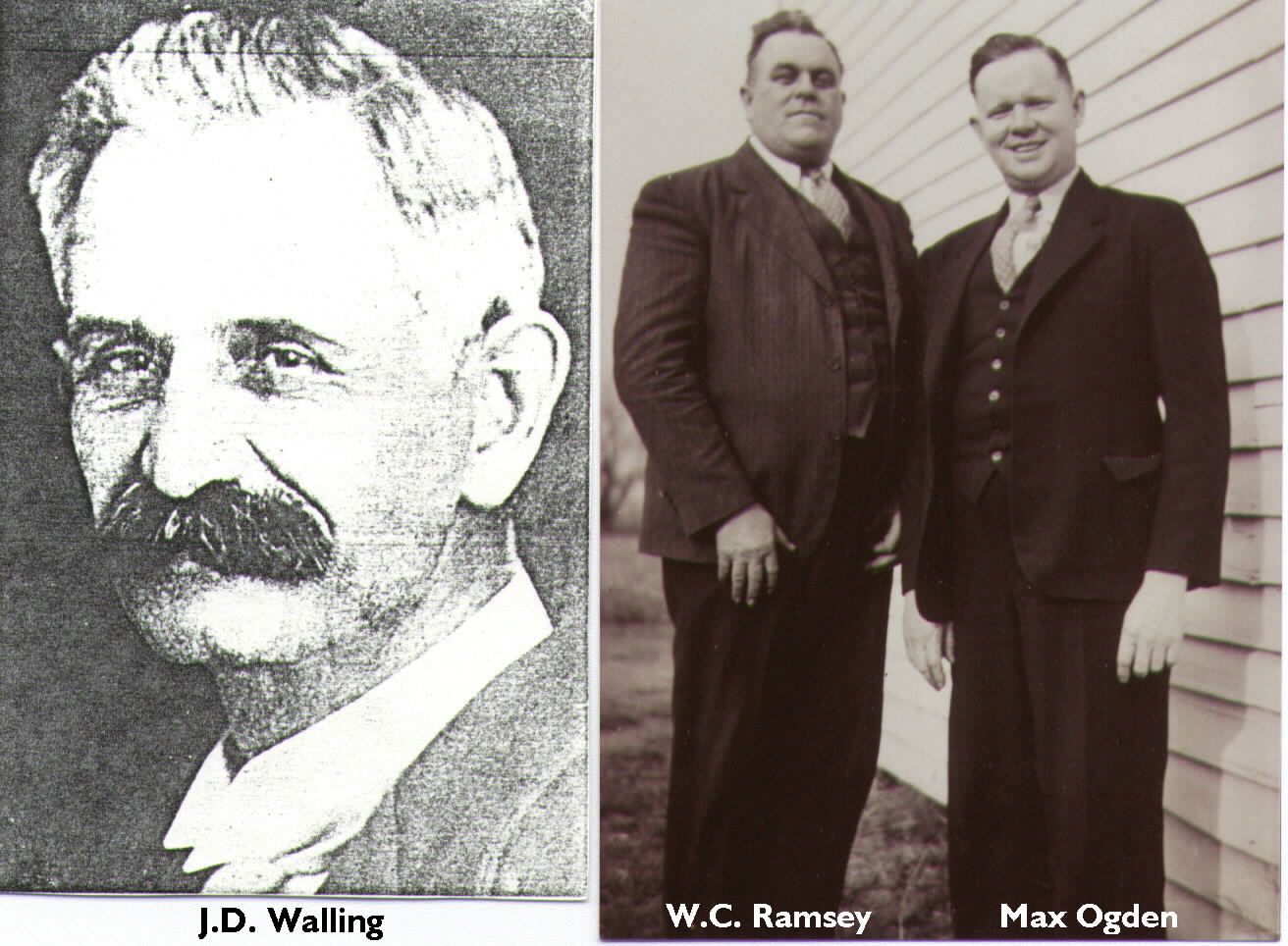 Around 1911, '12, '13, the Church of Christ in Wayne County almost perished; many people give Bro. J.D. Walling credit for putting renewed life into the Church. The following little sketch is an effort to give some idea of the remarkable spirit of J.D. Walling. Walling, Bro. Jesse Davis (1861-1923) was born into a well established banking family in McMinnville, Tennessee. Had he followed family tradition, Bro. Walling would have been a banker; instead he became a Church of Christ preacher and chose a life of sacrifice and privation. He married Miss Ellen Lee Brewer of an aristocratic Tennessee family; to them were born seven daughters and one son. When Bro. Walling arrived in Monticello, he was a widower with two teen-age daughters. He had no fear of hard work and with his two daughters he went all over Wayne County conducting tent meetings which were very popular. Bro. Walling was an excellent preacher of distinguished appearance and charming manners with a flare for doing the unusual. He preached in the movie theater owned and operated at that time by Mr. and Mrs. C.W. Simmons, grandparents of the Simmons brothers of Monticello. Although there was little money available, Mrs. Martha LaBan says that her sister Ellen and she had a wonderful time. Their father was paid with chickens and good, fresh country produce and the sisters learned to cook and to can plus having a right full social life. They remember Sunday dinners with the church members; especially do they remember Proctor Rankin's parents. Mrs. LaBan gaily recalls being chaperone and bridesmaid when her sister Ellen at sixteen became the bride of Mr. Elmer Eads, in a wedding ceremony at Oneida, Tennessee. With his remaining daughter, Martha, Bro. Walling went to Winchester to serve the Church of Christ there. His gentle spirit continues to shine among us, although he has been gone for fifty years.


Bro. Max Ogden was another who was concerned for things not of this world, preferring to work with the small church or some place where there was no church. Ogden, Bro. Max (1897-1970) was born in the community of Bartervllle, Nicholas County, Kentucky. During fifty years spent in preaching the gospel of Christ, Bro. Ogden labored with churches in Winchester, Monticello and other Churches of Christ in Wayne County, Scottsville, Hickman, Horse Cave in Kentucky and Noblesville in Indiana. Although most of his work was done in Kentucky, his preaching took him into eleven states. In December, 1936, Bro. Ogden moved to Wayne County to work with the Monticello Church of Christ. His stay in Monticello lasted twelve years; in addition to his work with the Monticello Church of Christ, he preached one Sunday each month for Oil Valley, Stop and Shearer Valley Churches of Christ. In 1918 Bro. Ogden married Della T. Hamm; to support his wife and their five children, he became a worker-preacher turning his hands to whatsoever he found, carpentry, paper hanging, and farm work. Their son, Arthur, born in Wayne County, is now a faithful gospel preacher for the Southside Church of Christ in Burnside, Kentucky.
---
This page is © Copyright 2002-2006 Ogden Publications, All Rights Reserved.
This page was last updated on September 13, 200.