Max Ogden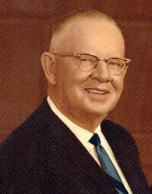 1897-1970
Click HERE to view pictures and information about the Lord's church in Wayne County, KY,
and the work of J.D. Walling and Max Ogden among those brethren.
(The following biography was written by Robert C. Welch and originally appeared in the July 1981 issue of Faith and Facts. It is reprinted here in its entirety with the permission of brother Welch.)
---
MEMORIES OF MEN, EVENTS AND THINGS
WHICH HAVE MOLDED MY LIFE
Max Ogden
Robert C. Welch
Becton, a small community west of Glasgow, Kentucky had a small but thriving church of the Lord, and had asked me to lead the singing in their summer meeting in 1941. I had heard many of these brethren speak in fond and glowing terms of Max Ogden, but I had never seen him. Though he had been in several meetings there, seven miles had been too far for a young man who travelled by foot to attend. He stood before the crowd that beginning night and in a calm, kind, but strong and deliberate, voice announced that his sermon would be "Building on the Right Foundation," and that he would continue that theme throughout the meeting. He declared that he would make the lessons simple teaching from the Bible; and that if there were any questions about them he would be happy to answer, even if they stood right up and asked in the process of the lesson. The lessons were so clear and complete on the specific subtopics during the week that there was not need for, and no, questions. Several were baptized during the week. A friendship was formed that lasted through the years to his death.
Accomodations were not as elaborate as in modern times, but for me they were quite complete. Brother Ogden and I shared the same sumptious room in the home of Jim Edmunds. There was nothing queer about our sharing the same bed; such was considered as most adequate. During this meeting an invalid woman was to be baptized. Others were being baptized in the farm pond and brother Ogden asked me to assist with the woman. We placed her in a chair, carried her to a depth where we could rest the chair on the bottom, and then we lowered her backwards beneath the water. It was simply and easily done, with no big ado.
His concern for such youth as myself was much in evidence. He had a large family, back in Monticello, Ky. to support, and the remuneration for that meeting was actually meagre. I was receiving even less. But I was trying to get to college again that fall. Brother Ogden took five dollars from his pocket and gave it to me as help to get me into Freed-Hardeman. You may laugh at the idea of such an amount now. But to me it was a huge gift, and I know that it must have been to him. The concern did not fade. After many years, marriage on my part, and moving to Scottsville on his, I was in a meeting at Coral Hill, another community northeast of Glasglow. During one of the day sessions I was surprised to see him and sister Ogden in the audience. They had driven from Scottsville, just to see what I had made of myself.
The following account was written by me upon the occasion of their fiftieth wedding anniversary. It was printed, framed in gold, and presented to them, with a copy going to each of the children. It will give the kind of picture I hold in mind of him:
FIFTY GOLDEN YEARS
"The glory of young men is their strength;
And the beauty of old men is the hoary head."
Proverbs 20:29

When I think of this great principle of life I envision a man of God and his bride of fifty long--but short--years. I speak of Max Ogden and his wife, the former Della Ham. They were born in the hills of the Cumberland plateau of Kentucky. Fifty years ago, on February 27, 1918, they began life together as God ordains. They are known and loved by the children of God all over the state of Kentucky and farther for their hospitality, their fidelity to and love of the truth, their family of children and grandchildren who like they walk in the old paths, and especially for his faithful preaching of the gospel of salvation and edification to the hundreds, yea thousands. So often, words of love and appreciation are unspoken until after such have departed this life. It is a joy to remember this noble couple as they celebrate this golden milestone of united journey through life.
"Houses and riches are the inheritance of fathers:
And a prudent wife is from the Lord."
Proverbs 19:14
"Let thy fountain be blessed:
And rejoice with thy wife of they youth."
Proverbs 5:18
No better words could be found to describe his gracious and charming bride who has been by his side through the years of sacrificial labor rearing of the children because he was away so much in meetings all over the country. It is readily observed that they have shared a happy life together.
"The fruit of righteousness is a tree of life;
And he that winneth souls is wise."
Proverbs 11:30
In 1924 they moved to Winchester, Kentucky where he worked for a furniture company. In 1925 he began preaching. The following words of information describe that early period of preaching; "and did much of it in school houses and from house to house or where ever an opportunity presented itself." Even in later years his work is described in the following words; "His preaching has taken him into eleven states, and much of it has been with weak churches or where there was no church at all, much of it being at his own expense." He had little formal education by today's standards; but he schooled himself in the word of God and trained himself for effective preaching in the laboratory of experience. His preaching has been effective. He was in several meetings at a country church near this writer's native home. At least fifty souls were led to the waters of baptism through his meetings with this little church.
"Buy the truth, and sell it not;
Yea wisdom, and instruction, and understanding."
Proverbs 23:23
Max Ogden has preached the truth, lived the truth, and stood for the truth for these many years. Some have taught that he was "soft" on grave issues which confronted the church; but not so. He is not vociferous, belligerant or domineering in his stand or in his preaching; he is patient, persuasive and gentlemanly. While in Winchester, he worked out the discussion between Neal and Wallace on the premillennial question; which debate became a turning point in keeping the brotherhood from being swept into this theoretical fancy. Some brethren at another place talked with me about some of their problems with the church and they thought that if they had a man to preach for them who went into the institutional issues tooth and claw that the church would be torn up. When I later learned that they had been able to get brother Ogden to move there, I knew that they had the man they needed to keep the church together, yet stand for the truth. It worked.
"A friend loveth at all times;
And a brother is born for adversity."
Proverbs 17:17
He is a man, stands as a man, yet has the tender heart of a child. Several years ago while working as a song leader with him in a meeting I had occasion to witness this. A dear friend of his and mine came from a neighboring town to talk with him about a grave crisis, probably serious injustice, he was undergoing with the church. There was unashamed tears and even sobs as they discussed the matter.
"The father of the righteous will greatly rejoice;
And he that begetteth a wise child will have joy of him."
Proverbs 23:24
They are the parents of three daughters and one son. All are faithful children of God. The three daughters live in Louisville, Kentucky. The Son, Arthur, preaches now for the church in Loveland, Ohio. There are fourteen grandchildren and eleven great grandchildren. Would that not be a happy gathering for all of them, to be at the patriarchal home where he now lives and preaches for the good Bear Wallow church near Horse Cave, Kentucky, his post office address.
Let this tribute end with a few more of the famous inspired words from the lips of the wise man of old:
"Her husband is known in the gates,
When he sitteth among the elders of the land...
Her children rise up, and call her blessed;
Her husband also, and he praiseth her."
Proverbs 31:23, 28
Born, Max DeFrances Ogden, February 17, 1897 in Nicholas County, Ky., near Carlisle, he grew up on a farm in the same neighborhood. The earlier part of his preaching career found him engaged in secular work in order to support his family. It was not until 1948, when he moved to Scottsville, Ky., that he was fully supported for his preaching. He lived and preached in the following places: Winchester, Ky., Monticello, Ky., Scottsville, Ky., Hickman, Noblesville, Ind., and Bear Wallow, near Horse Cave, Ky. From here he moved to Louisville where he died September 16, 1970.
Of his sermon preparation his son, Arthur, says:
"Dad always wrote out his sermons, I guess he felt when he had written an 8½ x 11 sheet of paper full, he had enough to preach for as long as he felt he should. This was something I did not know until after he died. He would fold the sheet of paper much like you would fold it to the mail in an envelope, and he would write very small down each fold. It is so small I can barely make it out...I don't think there was any way he could have read it while preaching. Whether he took it with him to the pulpit or not, I do not know. Mother used to say, no, but I think he probably did on occasion or would make some brief notes to remind him lest he forget a point."
I have seen those folded sheets of notes, and have seen him take them with him to the pulpit, but he certainly did not read them there. In fact, I cannot recall having ever seen him even look at them. It was just an assurance.
He left an indelible imprint upon his family of the importance of serving the Lord,. His son, Arthur, is a faithful preacher of the gospel. Two grandsons are faithful preachers; Alex, Arthur's son, and Max Shearer, Imogene's son. Three granddaughters are married to faithtul preachers; Boyd Sellers, Bill Krantz and Danny McKibben.
He had not been able to preach for a while before moving to Louisville where he and his wife could live with a daughter, Almeta. But he was not to continue long in retirement from the work he loved so well. Only a month after this final move, his heart no longer kept the physical body going, as his inner heart had kept the real person alive and renewed daily. A large crowd of his friends, and friends of his large family, gathered on September 19, 1970 to give comfort to the family, and to be comforted in their great loss, as they came to pay tribute to the memory of a humble, valiant soldier of the cross who had kept the faith.
Words of hope were spoken by James P. Miller and this writer. I could think of nothing more appropriate than to use the theme he used in that meeting so many years ago; "Building on the Right Foundation." The theme which he developed was for time and eternity, he stresseed. Our lives must be built on Christ in Faith, repentance and baptism. As a part of the church we are to make sure that it is built on Christ the foundation. The foundation must be furthered by growth in our spiritual life. It involves the production of a righteous family. It necessitates an interest in and a proclamation of the gospel of Christ. These are themes he used in that meeting and exemplified in his life, and were emphasized in that funeral address for the encouragement of all of us.
---
This page is © Copyright 1996-2000 Ogden Publications, All Rights Reserved.
This page was last updated on October 16, 2000.