Books published by Ogden Publications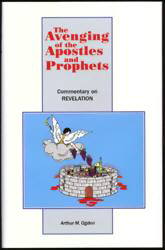 A popular commentary on the New Testament book of Revelation.
Click Here for a complete description of this book. To read what people have had to say about this book, Click Here.
The hard back edition was laid out anew and expanded to include a fourth appendix in 2005. It is bound in red cloth and now has 491 pages and has an attractive dust jacket.
Hard back edition: $24.95 Buy Now
The new edition is now in stock and ready for shipment!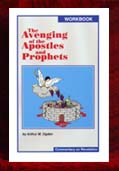 This workbook is the study tool many requested. A twenty-six lesson study designed to help you learn the text of Revelation and its meaning. It contains a condensed version of The Avenging of the Apostles and Prophets, including the illustrated scenes, plus Home Exercises for each session. The study of the Apocalypse is made easy with this tool.
This workbook contains 112 pages and has a paper binding.
NOTE: This is a new printing, correcting a number of errors.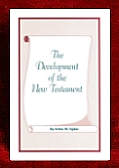 A study of the chronological development of the New Testament in its oral and written forms. This study is divided into thirteen chapters with home exercises for classroom use. Early chapters establish the historical background in which the Holy Spirit revealed the New Testament. Later chapters portray the chronological development of our New Testament books as they were being written. The final chapter adds a postscript to the study. Chronological tables pinpoint many events of the first forty years of Christianity, placing each book in its proper setting.
This workbook contains 99 pages and has a paper binding.
Sorry, but this book is temporarily out of print. The new edition should be ready in a few months.
McKee's Bible Studies CD-ROM 1.0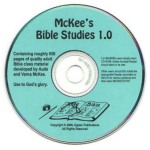 This CD contains roughly 650 pages of quality adult Bible class material. Written by Aude and Verna McKee over decades of work with local churches of Christ, these materials provide an excellent program of study for adult Bible classes. Every book of the Bible is covered, as well as several topical studies. Two separate studies are also available for Ladies Classes. The copyright on these materials grants the right to make as many paper copies as may be needed. The CD should be of use to both PC and MAC users.
Click Here to see a list of the lessons on this CD.
Price for 1: $10.00 Buy Now
Revelation Graphics CD-ROM 1.0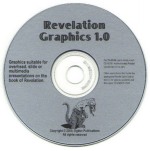 This CD contains all the graphics found in The Avenging of the Apostles and Prophets. These graphics are great for overhead, slide or multimedia presentations on the book of Revelation. Though some of the graphics are specific to the interpretation of the Apocalypse as presented in Avenging, virtually all of them would be of use in teaching on the Revelation regardless as to your specific interpretation of the book. The graphics are stored on the CD in two forms, the original b/w line drawings and full color versions. Both forms are saved in BMP, GIF, PCX and WPG formats, increasing the likelihood they will be of use to everyone. The CD should be of use to both PC and MAC users.

NOTE: The copyright on these graphics prohibits their use in any work (printed or electronic) which is designed for resale. They also may not be used on the world wide web or in any other form which would involve wide general distribution.
Price: $15.00 Buy Now
The Whole of GARYSLIST CD-ROM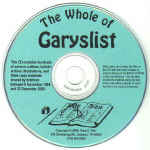 This CD, "The Whole of GARYSLIST" contains data generated from GARYSLIST, a subscription based internet mailing list operated from November 9th, 1994 through December 22nd, 2000. The list was owned and operated by Gary C. Kerr, of Jackson, TN. It was designed to help Christians in their local work by supplying such things as sermon outlines, bulletin articles, illustrations, Bible class material, and thought provoking questions and answers to Bible questions. This CD contains a wealth of Bible materials.

This CD has been completely reworked, breaking the daily digests up into the individual messages and then putting all 21,000+ messages into the easy to earch database program AskSam. Quickly search for all messages posted by a particular person or all messages that contains a certain word or phrase. AskSam makes Garyslist even more useful than before.

Price: $7.50 Buy Now
Arthur M. Ogden MP3 CD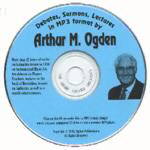 We are happy to make available this MP3 CD containing a host of audio material from the work of Art Ogden. Here's what is included on this CD:

+ 1959 debate with R.E. Walston on the issue of Instrumental Music.
+ His two debates with J.W. Holcomb on Women Teachers.
+ Lectures on the book of Revelation.
+ Sermons on Authority and a couple of other topics.

More than 42 hours of audio material has been squeezed onto this one CD.

Price: $10.00 Add to Cart
---
View Shopping Cart / Checkout

Return to Ogden Publications
---
This page is © Copyright 1996-2007 Ogden Publications, All Rights Reserved.
This page was last updated on February 24, 2007.